Analogman
From Wikimon
Analogman, known as "A" in Digimon World: Digital Card Arena, is a hacker who appears as a recurring antagonist in the Digimon World series.
Profile
[
edit
]
Card Game Evolution
[
edit
]
Appearances
[
edit
]
Video Games
[
edit
]
Rosemon warns the player about a mysterious "him" that wishes to harm the world several times before Analogman's proper appearance in the game.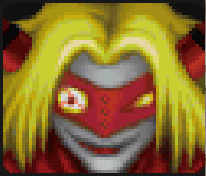 After Infinity Tower's Battle Arena is cleared, Analogman hacks into the Digital World of Digital Card Arena, forcing the world to switch to Safety Mode. He wishes to take over the world, and according to him, it is only a matter of time before he does and he has infinite time. The player vows to stop him, and he accepts the player's challenge, understanding that battles in this world are Card Games. He's sure he cannot lose, but even if he loses, it won't make a difference. As such, he hacks the world once again, taking control of Venom Vamdemon's body and turning Dark City's Battle Arena into the Analog Arena.
In Infinity Tower's Battle Cafe, Rosemon gives Analogman's name as "A", and refers to him as a concentration of evil nested in the Net. She explains that he's a human being from another Digital World, where he did many evil things but was ultimately defeated by a brave soul, referring to the player character of the first Digimon World. He was meant to be trapped in the Net, unconscious, but instead his evil consciousness kept growing, until said consciousness left his body and crawled out of the Net, after which he attacked the Digital World.
"A" serves as the only opponent of Dark City's second Battle Arena. He considers battling the player to be completely meaningless but nonetheless accepts, and is surprised at the player calling him "A", as it shows him that security programs are aware of his presence, and he plans to destroy them once he takes total control. The player refuses to allow it, but "A" points out that the player can't do anything, even if he does win in a Card Battle against him. "A" uses the Sealed Darkness deck, a Black/Darkness deck with 5 attack, defense and evolution speed. It is a cursed deck born from eternal darkness. Rosemon refers to it as a "cheat deck" as it uses the "Shuffle Free" function, that is, it is not shuffled at the beginning of the match, and believes it can output massive power and is invincible in "A"'s hands. Furthermore, he hacks the world once again at the beginning of the battle with the player, moving the player's Partner Cards to the bottom of his deck.
As "A"'s deck is not shuffled, he will always draw the exact same cards in the exact same order: Pico Devimon, Download Evolution, Apocalymon, Holy Sevens, Venom Vamdemon, Download Evolution, Black Tailmon, Grand Sevens, Pico Devimon, Black Tailmon, Guardromon, Speed Sevens, Misty Sevens, Black Tailmon, Wild Sevens, Diablomon, Mega Recovery Floppy, Guardromon, Jyureimon's Mist, Dark Sevens, Pico Devimon, Speed Evolution, Guardromon, Apocalymon, Jyureimon's Mist, Golden Banana, Reverse Sevens, two more cards; and he'll always start the battle by using the first three to get a full-power Apocalymon on the field on turn one.
Defeating "A" gives a massive 30 experience points, which become 33 thanks to a Perfect Level Win bonus from Apocalymon.
After defeating "A", he freaks out as he realizes that he's losing his access. He tries hacking his way back in, only to fail, entering an infinite loop. Rosemon, the security program, then speaks, saying that she has put his current directory in her Domain, so he cannot escape anymore, and can only repeat endless math equations. "A" then realizes that the Card Battle was the setup for his situation, and Rosemon congratulates the player on defeating "A". "A" threatens to destroy Rosemon, but Rosemon anticipated it and cuts both herself and "A" off the world and into the space of the Net. This causes "A" to panic, as he does not want to go back there, and he begs her to stop, which proves futile.
As "A" is the final boss of the game, the credits then roll.
Additional Information
[
edit
]