Callismon
From Wikimon
| | | | | |
| --- | --- | --- | --- | --- |
| Profile | | Name & Etymology | | Debut |

| | | | | | | |
| --- | --- | --- | --- | --- | --- | --- |
| English | | Japanese | | Key | | Contents |
Attack Techniques
[
edit
]
Name
Kanji/Kana
Romanization
Description
Deep Forest
[1]
ディープフォレスト
Dīpu Foresuto
Slashes the enemy with the claws on its left hand.
Rodeo Bullet
[1]
ロデオバレット
Rodeo Baretto
Fires explosive homing bullets from its gun.
Evolution
[
edit
]
Evolves From
[
edit
]
Evolves To
[
edit
]
Appearances
[
edit
]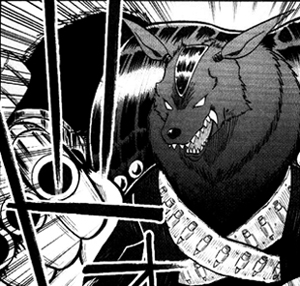 Callismon was an artificial Digimon created by Saiba Neo by merging a Gryzmon with the power data of Arkadimon. It was dispatched to apprehend the escaping Saiba Rei, but was defeated by Zeromaru, shocked at his sheer strength as it died.
Video Games
[
edit
]
Virtual Pets
[
edit
]
Image Gallery
[
edit
]
Artwork
[
edit
]
Bandai
Additional Information
[
edit
]