Igloo City
From Wikimon
Under Construction
Sorry for our appearance, but this article currently needs a lot of work.
Igloo City (かまくらシティ Kamakura Shiti) is a city in the Mega Area of Digi-Land.
Description
[
edit
]
A city with an igloo surrounded by snow and mountains. When the player first arrives in it, the Battle Arena was taken over by Stingmon, with its Battle Master, Garurumon, brainwashed by the Digimon Kaiser. The player beat Stingmon and released Garurumon. In the postgame, Armadimon sets up an Extra Arena for his evolved forms in it.
Locations
[
edit
]
Battle Cafe (バトルカフェ Batoru Kafe)
Battle Arena (バトルアリーナ Batoru Arīna)
Extra Arena
Battle Cafe Players
[
edit
]
Battle Arena
[
edit
]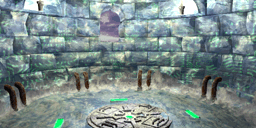 First Battle Arena
[
edit
]
Second Battle Arena
[
edit
]
1st Battle: Yukidarumon (Feast Deck)
2nd Battle: Whamon (Ocean Defense Deck)
Battle Master: Garurumon (Counterattack Fang Deck)

Rewards: Blue Pack, Perfect-level card (chosen at random, will always be of one of the colours of the player's starting deck)
Third Battle Arena
[
edit
]
Fourth Battle Arena
[
edit
]
Extra Arena
[
edit
]
First Extra Arena
[
edit
]
1st Battle: Armadimon (Mountain Crusher Deck)
2nd Battle: Ankylomon (Rock Head Deck)
Battle Master: Digmon (Mountain Crusher Deluxe Deck)
Second Extra Arena
[
edit
]
1st Battle: Ankylomon (Rock Head Deck)
2nd Battle: Digmon (Mountain Crusher Deluxe Deck)
Battle Master: Submarimon (Yellow Submarine Deck)
Third Extra Arena
[
edit
]
1st Battle: Digmon (Mountain Crusher Deluxe Deck)
2nd Battle: Submarimon (Yellow Submarine Deck)
Battle Master: Shakkoumon (Ancient Romance Deck)
Fourth Extra Arena
[
edit
]
Appearances
[
edit
]
Video Games
[
edit
]