Re-84
From Wikimon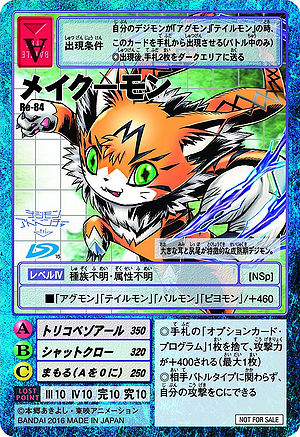 Meicoomon


Re-84

Battle Type
Appearance Requirements
When your Digimon is Agumon or Tailmon, make this card appear from your hand (during battle only).

---

◎After appearance, send two cards from your hand to the Dark Area.
An Adult level Digimon whose large ears and tail are its defining characteristics.
Level
Type
Attribute
Level IV
Unknown
Unknown
■ Add 460 to the attack power of your Agumon, Tailmon, Palmon, or Piyomon.
Field
Special Abilities
Nature Spirits

◎Discard one Program Option card from your hand and add 400 to your attack power (1 card max).

---

◎You can make your attack C regardless of the opponent's battle type.




Attacks
A
Trichobezoar
350
B
Shut Claw
320
C
Guard (A→0)
250

| Lost Point | III | 10 | IV | 10 | 完 | 10 | 究 | 10 |
| --- | --- | --- | --- | --- | --- | --- | --- | --- |
メイクーモン


Re-84

バトルタイプ
出現条件
自分のデジモンが「アグモン」「テイルモン」の時、このカードを手札から出現させる(バトル中のみ)

---

◎出現後、手札2枚をダークエリアに送る
フィールド
特殊能力
NSp

◎手札の「オプションカード・プログラム」1枚を捨て、攻撃力が+400される(最大1枚)

◎相手のバトルタイプに関わらず、自分の攻撃をCにできる




攻撃
A

トリコベゾアール

350
B

シャットクロー

320
C

まもる(Aを0に)

250

| Lost Point | III | 10 | IV | 10 | 完 | 10 | 究 | 10 |
| --- | --- | --- | --- | --- | --- | --- | --- | --- |