Re-85
From Wikimon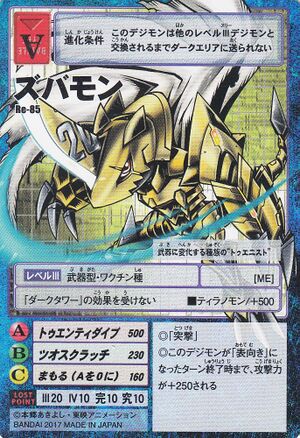 Zubamon


Re-85

Battle Type
Evolution Requirements
Unless this Digimon is replaced with another Level III Digimon, it cannot be sent to the Dark Area.
The "Twentiest" member of the race capable of transforming themselves into weapons.
Level
Type
Attribute
Level III
Weapon
Vaccine
Cannot receive the effects of 'Dark Tower'. ■ Add 500 to the attack power of your Tyranomon.
Field
Special Abilities
Metal Empire

◎Has the ability "charge".

---

◎Add 250 to your attack power until the end of the turn during which this Digimon turned face-up.




Attacks
A
Twenty Dive
500
B
20 Scratch
230
C
Guard (A→0)
160

| Lost Point | III | 20 | IV | 10 | 完 | 10 | 究 | 10 |
| --- | --- | --- | --- | --- | --- | --- | --- | --- |
ズバモン


Re-85

バトルタイプ
進化条件
このデジモンは他のレベルIIIデジモンと交換されるまでダークエリアに送られない
フィールド
特殊能力
ME

◎「突撃」

◎このデジモンが「表向き」になったターン終了時まで、攻撃力が+250される




攻撃
A

トゥエンティダイブ

500
B

ツオスクラッチ

230
C

まもる(Aを0に)

160

| Lost Point | III | 20 | IV | 10 | 完 | 10 | 究 | 10 |
| --- | --- | --- | --- | --- | --- | --- | --- | --- |