Re-69
From Wikimon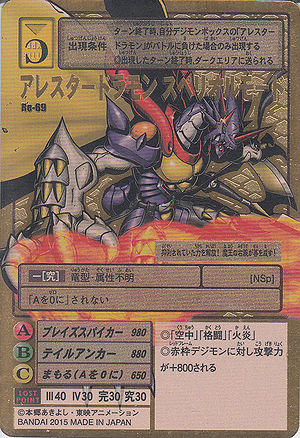 Arresterdramon Superior Mode


Re-69

Battle Type
Appearance Requirements
At the end of the turn, if the Arresterdramon in your Digimon box lost the battle, make this card appear.

---

◎At the end of the turn during which appearance took place, send this card to the Dark Area.
Its suppressed power is finally released! It wields the right arm of the Demon Lord for good!
Level
Type
Attribute
- [Ultimate Equivalent]
Dragon
Unknown
A cannot go to zero.
Field
Special Abilities
Nature Spirits

◎Has the abilities "sky", "grappling", and "flame".

---

◎When facing a red frame Digimon, add 800 to your attack power.




Attacks
A
Blaze Spiker
980
B
Tail Anchor
880
C
Guard (A→0)
650

| Lost Point | III | 40 | IV | 30 | 完 | 30 | 究 | 30 |
| --- | --- | --- | --- | --- | --- | --- | --- | --- |
アレスタードラモンスペリオルモード


Re-69

バトルタイプ
出現条件
ターン終了時、自分デジモンボックスの「アレスタードラモン」がバトルに負けた場合のみ出現する

---

◎出現したターン終了時、ダークエリアに送られる
フィールド
特殊能力
NSp

◎「空中」「格闘」「火炎」

◎赤枠デジモンに対し攻撃力が+800される




攻撃
A

ブレイズスパイカー

980
B

テイルアンカー

880
C

まもる(Aを0に)

650

| Lost Point | III | 40 | IV | 30 | 完 | 30 | 究 | 30 |
| --- | --- | --- | --- | --- | --- | --- | --- | --- |