Re-70
From Wikimon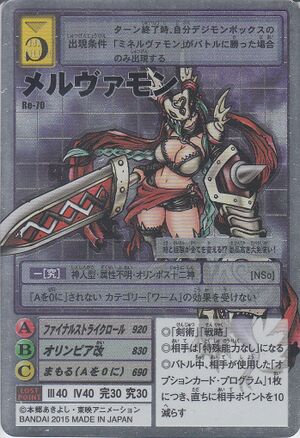 Mervamon


Re-70

Battle Type
Appearance Requirements
At the end of the turn, if the Minervamon in your Digimon box won the battle, make this card appear.
Time and experience changes everything!? A graceful and elegant greatsword user!
Level
Type
Attribute
Ultimate
God Man
Unknown
A cannot go to zero. Cannot receive the effects of Option Cards in the Category Worm.
Field
Special Abilities
Nightmare Soldiers

◎Has the abilities "fencing" and "strategy".

---

◎The opponent loses its special abilities.

---

◎During battle, for every Program Option card the opponent uses, reduce the opponent's points by 10.

Group
Olympos XII
Attacks
A
Final Strike Roll
920
B
Olympia Kai
830
C
Guard (A→0)
690

| Lost Point | III | 40 | IV | 40 | 完 | 30 | 究 | 30 |
| --- | --- | --- | --- | --- | --- | --- | --- | --- |
メルヴァモン


Re-70

バトルタイプ
出現条件
ターン終了時、自分デジモンボックスの「ミネルヴァモン」がバトルに勝った場合のみ出現する
フィールド
特殊能力
NSo

◎「剣術」「戦略」

◎相手は「特殊能力なし」になる
◎バトル中、相手が使用した「オプションカード・プログラム」1枚につき、直ちに相手ポイントを10減らす

グループ
オリンポス十二神
攻撃
A

ファイナルストライクロール

920
B

オリンピア改

830
C

まもる(Aを0に)

690

| Lost Point | III | 40 | IV | 40 | 完 | 30 | 究 | 30 |
| --- | --- | --- | --- | --- | --- | --- | --- | --- |