Re-68
From Wikimon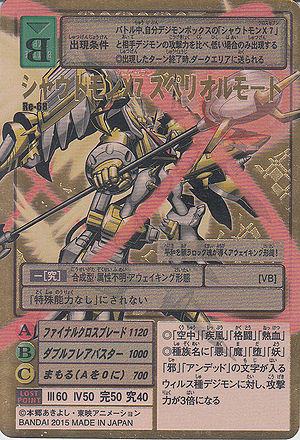 Shoutmon X7 Superior Mode


Re-68

Battle Type
Appearance Requirements
During battle, compare the attack power of the Shoutmon X7 in your Digimon box with the opponent's attack power. If your attack power is lower, make this card appear.

---

◎At the end of the turn during which appearance took place, send this card to the Dark Area.
Field
Special Abilities
Virus Busters

◎Has the abilities "sky", "gale", "grappling", and "ardor".

---

◎When facing a Virus attribute Digimon with "Evil" (including Devil/Small Devil), "Demon" (including Magic Warrior), "Fallen", "Bewitching", "Wicked", or "Undead" in its Type, triple your attack power.




Group
Awaking Mode
Attacks
A
Final Xros Blade
1120
B
Double Flare Buster
1000
C
Guard (A→0)
700

| Lost Point | III | 60 | IV | 50 | 完 | 50 | 究 | 40 |
| --- | --- | --- | --- | --- | --- | --- | --- | --- |
シャウトモンX7スペリオルモード


Re-68

バトルタイプ
出現条件
バトル中、自分デジモンボックスの「シャウトモンX7」と相手デジモンの攻撃力を比べ、低い場合のみ出現する

---

◎出現したターン終了時、ダークエリアに送られる
フィールド
特殊能力
VB

◎「空中」「疾風」「格闘」「熱血」

◎種族名に「悪」「魔」「堕」「妖」「邪」「アンデッド」の文字が入るウィルス種デジモンに対し、攻撃力が3倍になる




グループ
アウェイキング形態
攻撃
A

ファイナルクロスブレード

1120
B

ダブルフレアバスター

1000
C

まもる(Aを0に)

700

| Lost Point | III | 60 | IV | 50 | 完 | 50 | 究 | 40 |
| --- | --- | --- | --- | --- | --- | --- | --- | --- |