DM02-088
From Wikimon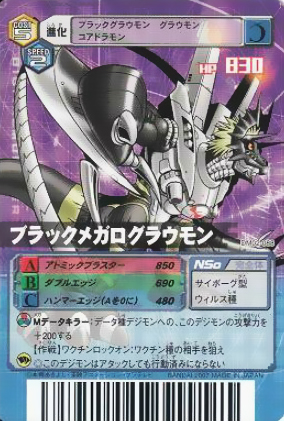 Attacks
Field
Nightmare Soldiers
A
Atomic Blaster
850
Level
Perfect
B
Double Edge
690
Type
Cyborg
C
Hammer Edge (A→0)
480
Attribute
Virus
Special Abilities

Mega Data Killer: Add 200 to the attack power of this Digimon when facing a Data Attribute Digimon.

---

[Strategy] Vaccine Lock On: Targets Vaccine Attribute opponents.

◎This Digimon will not become tapped after attacking.
攻撃
フィールド
NSo
A

アトミックブラスター

850
レベル
完全体
B

ダブルエッジ

690
型(タイプ)
サイボーグ型
C

ハンマーエッジ

(Aを0に)

480
属性
ウィルス種
特殊能力

Mデータキラー: データ種デジモンへの、このデジモンの攻撃力を+200する

【作戦】ワクチンロックオン:ワクチン種の相手を狙え

◎このデジモンはアタックしても行動済みにならない