Re-33t
From Wikimon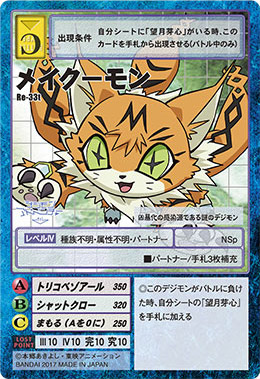 Meicoomon


Re-33t

Battle Type
Appearance Requirements
When you have a 'Mochizuki Meiko' card on your sheet, make this card appear from your hand (during battle only).
A mysterious Digimon, which is the source of the infection that drives others berserk.
Level
Type
Attribute
Level IV
Unknown
Unknown
■ When supporting a Partner Digimon, draw 3 cards and add them to your hand.
Field
Special Abilities
Nature Spirits

◎When this Digimon loses the battle, add the 'Mochizuki Meiko' card on your sheet to your hand.




Group
Partner
Attacks
A
Trichobezoar
350
B
Shut Claw
320
C
Guard (A→0)
250

| Lost Point | III | 10 | IV | 10 | 完 | 10 | 究 | 10 |
| --- | --- | --- | --- | --- | --- | --- | --- | --- |
メイクーモン


Re-33t

バトルタイプ
出現条件
自分のシートに「望月芽心」がいる時、このカードを手札から出現させる(バトル中のみ)
フィールド
特殊能力
NSp

◎このデジモンがバトルに負けた時、自分シートの「望月芽心」を手札に加える




グループ
パートナー
攻撃
A

トリコベゾアール

350
B

シャットクロー

320
C

まもる(Aを0に)

250

| Lost Point | III | 10 | IV | 10 | 完 | 10 | 究 | 10 |
| --- | --- | --- | --- | --- | --- | --- | --- | --- |