Re-2
From Wikimon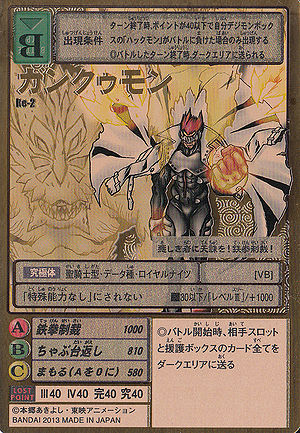 Gankoomon


Re-2

Battle Type
Appearance Requirements
At the end of the turn, make this card appear only if your points are 40 and below, and the Hackmon in your Digimon box has just lost the battle.

---

◎At the end of the turn during which this Digimon took part in battle, send it to the Dark Area.
It passes divine judgment onto evil beings with its Tekken Seisai!
Level
Type
Attribute
Ultimate
Holy Knight
Data
Cannot lose its special abilities. ■ When your points are 30 and below, add 1000 to the attack power of your Level III Digimon.
Field
Special Abilities
Virus Busters

◎At the start of the battle, send all of the cards in your opponent's slots and support box to the Dark Area.




Group
Royal Knights
Attacks
A
Tekken Seisai
1000
B
Chabudai Gaeshi
810
C
Guard (A→0)
580

| Lost Point | III | 40 | IV | 40 | 完 | 40 | 究 | 40 |
| --- | --- | --- | --- | --- | --- | --- | --- | --- |
ガンクゥモン


Re-2

バトルタイプ
出現条件
ターン終了時、ポイントが40以下で自分デジモンボックスの「ハックモン」がバトルに負けた場合のみ出現する

---

◎バトルしたターン終了時、ダークエリアに送られる
フィールド
特殊能力
VB

◎バトル開始時、相手スロットと援護ボックスのカード全てをダークエリアに送る




グループ
ロイヤルナイツ
攻撃
A

鉄拳制裁

1000
B

ちゃぶ台返し

810
C

まもる(Aを0に)

580

| Lost Point | III | 40 | IV | 40 | 完 | 40 | 究 | 40 |
| --- | --- | --- | --- | --- | --- | --- | --- | --- |