Re-3
From Wikimon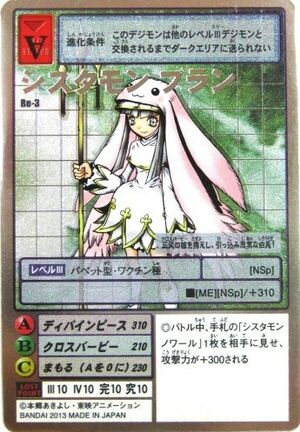 Sistermon Blanc


Re-3

Battle Type
Evolution Requirements
Unless this Digimon is replaced with another Level III Digimon, it cannot be sent to the Dark Area.
This introverted white rabbit wields its three-pronged lance, the Cross Barbée!
Level
Type
Attribute
Level III
Puppet
Vaccine
■ Add 310 to the attack power of your Metal Empire or Nature Spirits Digimon.
Field
Special Abilities
Nature Spirits

◎During battle, show the opponent one Sistermon Noir card from your hand, and add 300 to your attack power.




Attacks
A
Divine Pierce
310
B
Cross Barbée
210
C
Guard (A→0)
230

| Lost Point | III | 10 | IV | 10 | 完 | 10 | 究 | 10 |
| --- | --- | --- | --- | --- | --- | --- | --- | --- |
シスタモン ブラン


Re-3

バトルタイプ
進化条件
このデジモンは他のレベルIIIデジモンと交換されるまでダークエリアに送られない
フィールド
特殊能力
NSp

◎バトル中、手札の「シスタモンノワール」1枚を相手に見せ、攻撃力が+300される




攻撃
A

ディバインピース

310
B

クロスバービー

210
C

まもる(Aを0に)

230

| Lost Point | III | 10 | IV | 10 | 完 | 10 | 究 | 10 |
| --- | --- | --- | --- | --- | --- | --- | --- | --- |