DM02-119
From Wikimon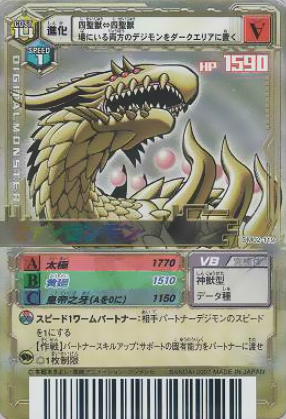 Attacks
Field
Virus Busters
A
Taikyoku
1770
Level
Ultimate
B
Oukai
1510
Type
God Beast
C
Koutei-no-Kiba (A→0)
1150
Attribute
Data
Special Abilities

Speed 1 Worm Partner: Change the Speed of the opponent's partner Digimon to 1.

---

[Strategy] Partner Skill Up: Passes Support inherent abilities to your partner.

◎One card limit.
攻撃
フィールド
VB
A

太極

1770
レベル
究極体
B

黄廻

1510
型(タイプ)
神獣型
C

皇帝之牙

(Aを0に)

1150
属性
データ種
特殊能力

スピード1ワームパートナー: 相手パートナーデジモンのスピードを1にする

【作戦】パートナースキルアップ:サポートの固有能力をパートナーに渡せ

◎1枚制限