DM02-116
From Wikimon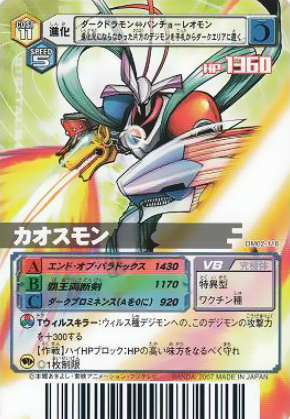 Evolution
Darkdramon + Bancho Leomon

---

Send the component Digimon that was not used as the base for evolution from your hand to the Dark Area.

Battle Type

Chaosmon
DM02-116
Attacks
Field
Virus Busters
A
End of Paradox
1430
Level
Ultimate
B
Haou Ryoudanken
1170
Type
Unique
C
Dark Prominence (A→0)
920
Attribute
Vaccine
Special Abilities

Tera Virus Killer: Add 300 to the attack power of this Digimon when facing a Virus Attribute Digimon.

---

[Strategy] High HP Block: Protects allies with high HP whenever possible.

◎One card limit.
攻撃
フィールド
VB
A

エンド・オブ・パラドックス

1430
レベル
究極体
B

覇王両断剣

1170
型(タイプ)
特異型
C

ダークプロミネンス

(Aを0に)

920
属性
ワクチン種
特殊能力

Tウィルスキラー: ウィルス種デジモンへの、このデジモンの攻撃力を+300する

【作戦】ハイHPブロック:HPの高い味方をなるべく守れ

◎1枚制限