Bx-154
From Wikimon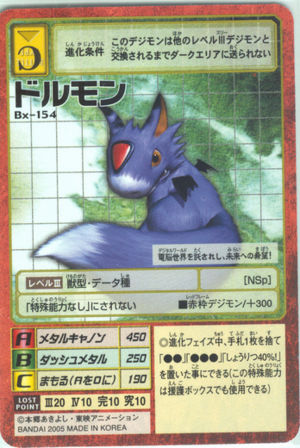 DORUmon


Bx-154

Battle Type
Evolution Requirements
Unless this Digimon is replaced with another Level III Digimon, it cannot be sent to the Dark Area.
The Digital World is entrusted to this hope for the future!
Level
Type
Attribute
Level III
Beast
Data
Cannot lose its special abilities. ■ Add 300 to the attack power of your red frame Digimon.
Field
Special Abilities
Nature Spirits

◎During the Evolution Phase, you may discard one card from your hand and treat it as if you have placed a 'OO', 'OOO', or a 'Winning Percentage: 40%!' card down (this special ability may be used even when this Digimon is in the support box).




Attacks
A
Metal Cannon
450
B
Dash Metal
250
C
Guard (A→0)
190

| Lost Point | III | 20 | IV | 10 | 完 | 10 | 究 | 10 |
| --- | --- | --- | --- | --- | --- | --- | --- | --- |
ドルモン


Bx-154

バトルタイプ
進化条件
このデジモンは他のレベルIIIデジモンと交換されるまでダークエリアに送られない
フィールド
特殊能力
NSp

◎進化フェイズ中、手札1枚を捨て「●●」「●●●」「しょうりつ40%!」を置いた事にできる(この特殊能力は援護ボックスでも使用できる)




攻撃
A

メタルキャノン

450
B

ダッシュメタル

250
C

まもる(Aを0に)

190

| Lost Point | III | 20 | IV | 10 | 完 | 10 | 究 | 10 |
| --- | --- | --- | --- | --- | --- | --- | --- | --- |