Re-41
From Wikimon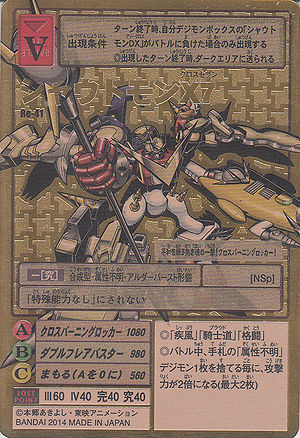 Shoutmon X7


Re-41

Battle Type
Appearance Requirements
At the end of your turn, you can make this Digimon appear if the Shoutmon DX in your Digimon Box lost the battle.

---

◎At the end of the turn during which this Digimon appeared, send it to the Dark Area.
A strike from the burning soul that wishes for peace! Xros Burning Rocker!
Level
Type
Attribute
- [Ultimate Equivalent]
Composite
Unknown
Cannot lose its special abilities.
Field
Special Abilities
Nature Spirits

◎Has the abilities "gale", "proud", and "grappling".

---

◎During battle, for every Unknown attribute Digimon you discard from your hand, double your attack power (2 cards max).




Group
Ardor-burst Mode
Attacks
A
Xros Burning Rocker
1080
B
Double Flare Buster
980
C
Guard (A→0)
560

| Lost Point | III | 60 | IV | 40 | 完 | 40 | 究 | 40 |
| --- | --- | --- | --- | --- | --- | --- | --- | --- |
シャウトモンX7


Re-41

バトルタイプ
出現条件
ターン終了時、自分デジモンボックスの「シャウトモンDX」がバトルに負けた場合のみ出現する

---

◎出現したターン終了時、ダークエリアに送られる
フィールド
特殊能力
NSp

◎「疾風」「騎士道」「格闘」

◎バトル中、手札の「属性不明」デジモン1枚を捨てる毎に、攻撃力が2倍になる(最大2枚)




グループ
アルダーバースト形態
攻撃
A

クロスバーニングロッカー

1080
B

ダブルフレアバスター

980
C

まもる(Aを0に)

560

| Lost Point | III | 60 | IV | 40 | 完 | 40 | 究 | 40 |
| --- | --- | --- | --- | --- | --- | --- | --- | --- |