Re-09t
From Wikimon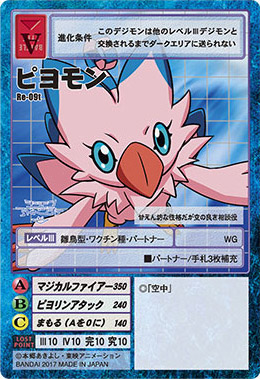 Piyomon


Re-09t

Battle Type
Evolution Requirements
Unless this Digimon is replaced with another Level III Digimon, it cannot be sent to the Dark Area.
Although it has a spoiled personality, it still acts as a great advisor for Sora.
Level
Type
Attribute
Level III
Chick
Vaccine
■ When supporting a Partner Digimon, draw 3 cards and add them to your hand.
Field
Special Abilities
Wind Guardians

◎Has the ability "sky".




Group
Partner
Attacks
A
Magical Fire
350
B
Piyorin Attack
240
C
Guard (A→0)
140

| Lost Point | III | 10 | IV | 10 | 完 | 10 | 究 | 10 |
| --- | --- | --- | --- | --- | --- | --- | --- | --- |
ピヨモン


Re-09t

バトルタイプ
進化条件
このデジモンは他のレベルIIIデジモンと交換されるまでダークエリアに送られない
フィールド
特殊能力
WG

◎「空中」




グループ
パートナー
攻撃
A

マジカルファイアー

350
B

ピヨリンアタック

240
C

まもる(Aを0に)

140

| Lost Point | III | 10 | IV | 10 | 完 | 10 | 究 | 10 |
| --- | --- | --- | --- | --- | --- | --- | --- | --- |