DM02-114
From Wikimon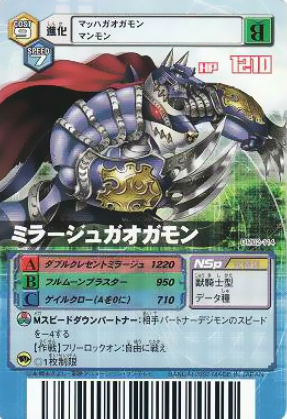 Attacks
Field
Nature Spirits
A
Double Crescent Mirage
1220
Level
Ultimate
B
Full Moon Blaster
950
Type
Beast Knight
C
Gale Claw (A→0)
710
Attribute
Data
Special Abilities

Mega Speed Down Partner: Lowers the Speed of the opponent party's partner Digimon by 4.

---

[Strategy] Free Lock On: This Digimon will battle freely.

◎One card limit.
攻撃
フィールド
NSp
A

ダブルクレセントミラージュ

1220
レベル
究極体
B

フルムーンブラスター

950
型(タイプ)
獣騎士型
C

ゲイルクロー

(Aを0に)

710
属性
データ種
特殊能力

Mスピードダウンパートナー: 相手パートナーデジモンのスピードを-4する

【作戦】フリーロックオン:自由に戦え

◎1枚制限