Bx-10s
From Wikimon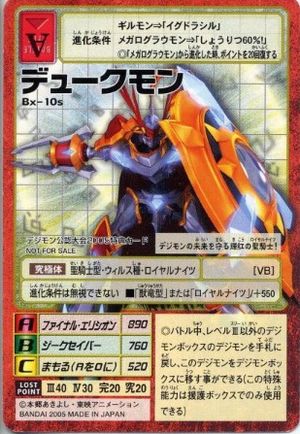 Dukemon


Bx-10s

Battle Type
Evolution Requirements
Guilmon + Yggdrasill

---

Megalo Growmon + Winning Percentage: 60%!

---

◎Regain 20 points when you evolve from Megalo Growmon.
A radiant crimson holy knight who defends the future of Digimon!
Level
Type
Attribute
Ultimate
Holy Knight
Virus
The evolution requirements cannot be ignored. ■ Add 550 to the attack power of your Beast Dragon type or Royal Knight Digimon.
Field
Special Abilities
Virus Busters

◎During battle, you may send the non-Level III Digimon in your Digimon box back to your hand, and move this Digimon into your Digimon box (this special ability may only be used when this Digimon is in the support box).




Group
Royal Knights
Attacks
A
Final Elysion
890
B
Sieg Saber
760
C
Guard (A→0)
520

| Lost Point | III | 40 | IV | 30 | 完 | 20 | 究 | 20 |
| --- | --- | --- | --- | --- | --- | --- | --- | --- |
フィールド
特殊能力
VB

◎バトル中、レベルIII以外のデジモンボックスのデジモンを手札に戻し、このデジモンをデジモンボックスに移す事ができる(この特殊能力は援護ボックスでのみ使用できる)




グループ
ロイヤルナイツ
攻撃
A

ファイナル・エリシオン

890
B

ジークセーバー

760
C

まもる(Aを0に)

520

| Lost Point | III | 40 | IV | 30 | 完 | 20 | 究 | 20 |
| --- | --- | --- | --- | --- | --- | --- | --- | --- |