Bo-700
From Wikimon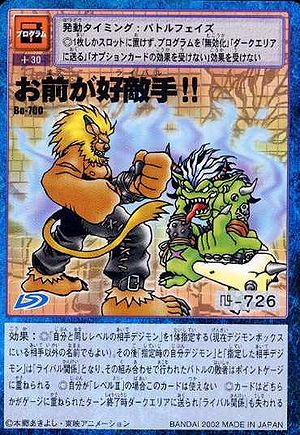 You're My Rival!!
Bo-700
Activation Timing: Battle Phase

---

◎You may only place one of this card in your slots; cannot receive the effects of Program cards being 'invalidated' or 'sent to the Dark Area', or 'cannot receive the effects of Option cards'.
+30
Effects:
◎Mark out one of the opponent's Digimon at the same level as your Digimon (it can be a Digimon that is not your current opponent in the Digimon Box). After that, your Digimon when you did the marking out and the opponent's Digimon that you marked out develop a 'rivalry', and the loser of a battle between the two Digimon is stacked onto the point gauge.

---

◎This card cannot be used when your Digimon is Level III.

---

◎This card is sent to the Dark Area at the end of the turn when one party gets sent to the point gauge, and when the 'rivalry' is dissolved.
お前が好敵手!!
Bo-700
発動タイミング: バトルフェイズ

---

◎1枚しかスロットに置けず、プログラムを「無効化」「ダークエリアに送る」「オプションカードの効果を受けない」の効果を受けない
+30
[効果]:
◎「自分と同じレベルの相手デジモン」を1体指定する(現在デジモンボックスにいる相手以外の名前でもよい)。その後「指定時の自分デジモン」と「指定した相手デジモン」は「ライバル関係」となり、その組み合わせで行われたバトルの敗者はポイントゲージに重ねられる

---

◎自分が「レベルIII」の場合このカードは使えない

---

◎カードはどちらかがゲージに重ねられたターン終了時ダークエリアに送られ「ライバル関係」も失われる