Re-13t
From Wikimon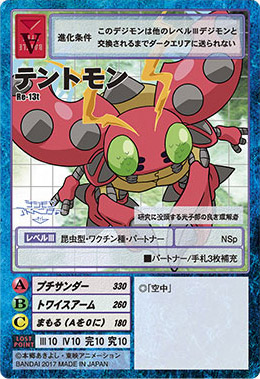 Tentomon


Re-13t

Battle Type
Evolution Requirements
Unless this Digimon is replaced with another Level III Digimon, it cannot be sent to the Dark Area.
It is very understanding towards Kōshirō, who is always immersed in his research.
Level
Type
Attribute
Level III
Insect
Vaccine
■ When supporting a Partner Digimon, draw 3 cards and add them to your hand.
Field
Special Abilities
Nature Spirits

◎Has the ability "sky".




Group
Partner
Attacks
A
Petit Thunder
330
B
Twice Arm
260
C
Guard (A→0)
180

| Lost Point | III | 10 | IV | 10 | 完 | 10 | 究 | 10 |
| --- | --- | --- | --- | --- | --- | --- | --- | --- |
テントモン


Re-13t

バトルタイプ
進化条件
このデジモンは他のレベルIIIデジモンと交換されるまでダークエリアに送られない
フィールド
特殊能力
NSp

◎「空中」




グループ
パートナー
攻撃
A

プチサンダー

330
B

トワイスアーム

260
C

まもる(Aを0に)

180

| Lost Point | III | 10 | IV | 10 | 完 | 10 | 究 | 10 |
| --- | --- | --- | --- | --- | --- | --- | --- | --- |