OP02-031
From Wikimon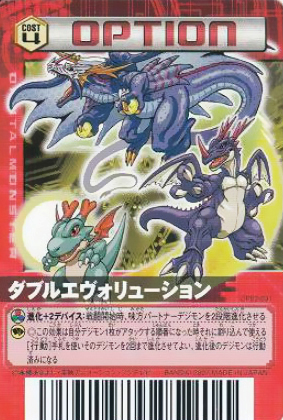 | | |
| --- | --- |
| Double Evolution | OP02-031 |
Effects

Evolution +2 Device: At the start of the battle, evolve the ally partner Digimon by 2 levels.

◎When the turn comes for one of your Digimon to attack, this effect can be used to interrupt it.

---

[Action] You may evolve that Digimon up to 2 times using cards from your hand. Tap that Digimon after evolution.



効果

進化+2デバイス:戦闘開始時、味方パートナーデジモンを2段階進化させる

◎この効果は自分デジモン1枚がアタックする順番になった時それに割り込んで使える
[行動]手札を使いそのデジモンを2回まで進化させてよい。進化後のデジモンは行動済みになる