CD-2
From Wikimon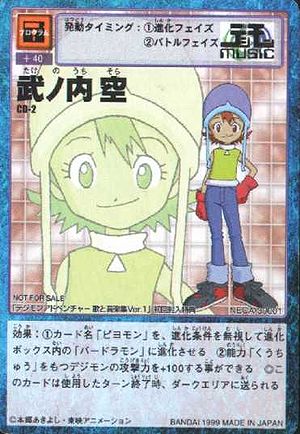 Takenouchi Sora
CD-2
Activation Timing: 1) Evolution Phase 2) Battle Phase
+40
Effects:
①Ignore the evolution requirements and evolve your Piyomon into the Birdramon in your Evolution Box.

---

②You may add 100 to the attack power of your Digimon with the ability "sky".

---

◎At the end of the turn during which this card was used, send it to the Dark Area.
武之内 空
CD-2
発動タイミング: ①進化フェイズ ②バトルフェイズ
+40
[効果]:
①カード名「ピヨモン」を、進化条件を無視して進化ボックス内の「バードラモン」に進化させる

---

②能力「くうちゅう」をもつデジモンの攻撃力を+100する事ができる

---

◎このカードを使用したターン終了時、ダークエリアに送られる