Bx-96
From Wikimon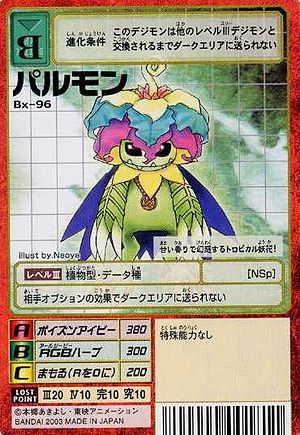 Palmon


Bx-96

Battle Type
Evolution Requirements
Unless this Digimon is replaced with another Level III Digimon, it cannot be sent to the Dark Area.
Illust. by Naoya
This bewitching tropical flower enchants opponents with its sweet scent!
Level
Type
Attribute
Level III
Plant
Data
Cannot be sent to the Dark Area due to the effects of the opponent's Option cards.
Field
Special Abilities
Nature Spirits

No special abilities.




Attacks
A
Poison Ivy
380
B
RGB Herb
300
C
Guard (A→0)
200

| Lost Point | III | 20 | IV | 10 | 完 | 10 | 究 | 10 |
| --- | --- | --- | --- | --- | --- | --- | --- | --- |
パルモン


Bx-96

バトルタイプ
進化条件
このデジモンは他のレベルIIIデジモンと交換されるまでダークエリアに送られない
フィールド
特殊能力
NSp

特殊能力なし




攻撃
A

ポイズンアイビー

380
B

RGBハーブ

300
C

まもる(Aを0に)

200

| Lost Point | III | 20 | IV | 10 | 完 | 10 | 究 | 10 |
| --- | --- | --- | --- | --- | --- | --- | --- | --- |