Bo-96t
From Wikimon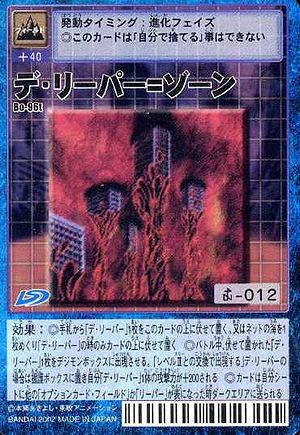 D-Reaper Zone
Bo-96t
Activation Timing: Evolution Phase

---

◎This card cannot be discarded by you.
+40
Effects:
◎Place one D-Reaper card from your hand face-down onto this card. Or, you may check one card from your Net Ocean, and place it face-down on this card only if it is a D-Reaper card.

---

◎During battle, you can make one D-Reaper card placed face-down on this card appear in your Digimon box. (If that card was a D-Reaper that would appear through switching with a Level III Digimon, you can place it in the support box and add 200 to the attack power of one of your D-Reaper cards).

---

◎This card is sent to the Dark Area when another Field Option card, or a 'Reaper' card turns face-up on your sheet.
デ・リーパー=ゾーン
Bo-96t
発動タイミング: 進化フェイズ

---

◎このカードは「自分で捨てる」事はできない
+40
[効果]:
◎手札から「デ・リーパー」1枚をこのカードの上に伏せて置く。又はネットの海を1枚めくり「デ・リーパー」の時のみカードの上に伏せて置く

---

◎バトル中、伏せて置かれた「デ・リーパー」1枚をデジモンボックスに出現させる。「レベルIIIとの交換で出現する」デ・リーパーの場合は援護ボックスに置き自分「デ・リーパー」1体の攻撃力が+200される

---

◎カードは自分シートに他の「オプションカード・フィールド」か「リーパー」が表になった時ダークエリアに送られる