Vj-6
From Wikimon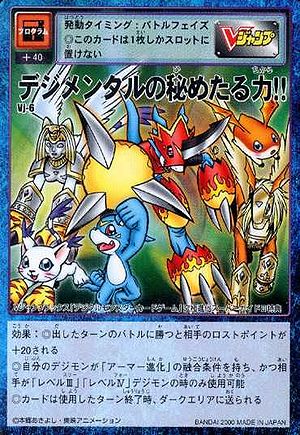 The Hidden Power of Digimentals!!
Vj-6
Activation Timing: Battle Phase

---

◎You may only place one of this card in your slots.
+40
Effects:
◎When you win the battle on the turn during which you played this card, add 20 to the opponent's lost points.

---

◎This card can only be used when your Digimon has 'Armor Evolution' in its fusion requirements, and the opponent is a Level III or Level IV Digimon.

---

◎At the end of the turn during which this card was used, send it to the Dark Area.
デジメンタルの秘めたる力!!
Vj-6
発動タイミング: バトルフェイズ

---

◎このカードは1枚しかスロットに置けない
+40
[効果]:
◎出したターンのバトルに勝つと相手のロストポイントが+20される

---

◎自分のデジモンが「アーマー進化」の融合条件を持ち、かつ相手が「レベルIII」「レベルIV」デジモンの時のみ使用可能

---

◎カードは使用したターン終了時、ダークエリアに送られる