St-923
From Wikimon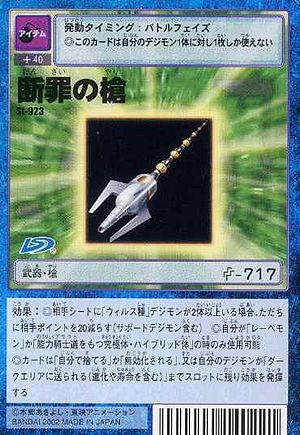 Spear of Conviction
St-923
Activation Timing: Battle Phase

---

◎You may only use one of this card on each of your Digimon.
+40
Category:
Weapon/Spear
Effects:
◎When there are two or more Virus attribute Digimon on the opponent's sheet (including support Digimon), immediately reduce the opponent's points by 20.

---

◎This card can only be used when your Digimon is a Löwemon, or an Ultimate or Hybrid level with the ability "proud".

---

◎This card remains in its slot and continues its effects until you discard it or it is invalidated, or when your Digimon is sent to the Dark Area (including when it evolves or reaches the end of its lifespan).
断罪の槍
St-923
発動タイミング: バトルフェイズ

---

◎このカードは自分のデジモン1体に対し1枚しか使えない
+40
カテゴリー
武器・槍
[効果]:
◎相手シートに「ウィルス種」デジモンが2体以上いる場合、ただちに相手ポイントを20減らす(サポートデジモン含む)

---

◎自分が「レーベモン」か「能力騎士道をもつ究極体・ハイブリッド体」の時のみ使用可能

---

◎カードは「自分で捨てる」か「無効化される」、又は自分のデジモンが「ダークエリアに送られる(進化や寿命を含む)」までスロットに残り効果を発揮する