St-491
From Wikimon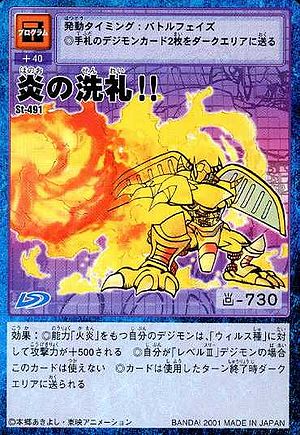 Baptism of Flames!!
St-491
Activation Timing: Battle Phase

---

◎Send two Digimon cards from your hand to the Dark Area.
+40
Effects:
◎Add 500 to the attack power of your Digimon with the ability "flame" when facing a Virus attribute Digimon.

---

◎This card cannot be used when your Digimon is Level III.

---

◎At the end of the turn during which this card was used, send it to the Dark Area.
炎の洗礼!!
St-491
発動タイミング: バトルフェイズ

---

◎手札のデジモンカード2枚をダークエリアに送る
+40
[効果]:
◎能力「火炎」をもつ自分のデジモンは、「ウィルス種」に対して攻撃力が+500される

---

◎自分が「レベルIII」デジモンの場合このカードは使えない

---

◎カードは使用したターン終了時ダークエリアに送られる