St-482
From Wikimon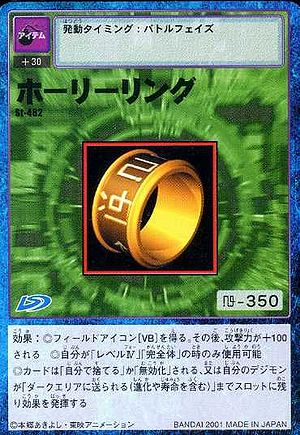 Holy Ring
St-482
Activation Timing: Battle Phase
+30
Effects:
◎You gain the field icon 'Virus Busters'. After that, add 100 to your attack power.

---

◎This card can only be used when your Digimon is Level IV or Perfect level.

---

◎This card remains in its slot and continues its effects until you discard it or it is invalidated, or when your Digimon is sent to the Dark Area (including when it evolves or reaches the end of its lifespan).
ホーリーリング
St-482
発動タイミング: バトルフェイズ
+30
[効果]:
◎フィールドアイコン[VB]を得る。その後、攻撃力が+100される

---

◎自分が「レベルIV」「完全体」の時のみ使用可能

---

◎カードは「自分で捨てる」か「無効化」される、又は自分のデジモンが「ダークエリアに送られる(進化や寿命を含む)」までスロットに残り効果を発揮する