St-432
From Wikimon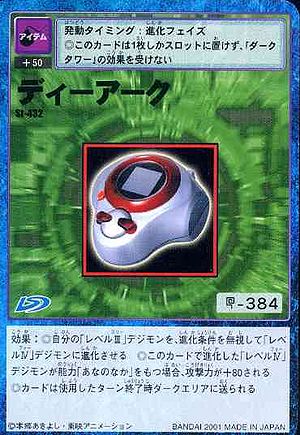 D-Ark
St-432
Activation Timing: Evolution Phase

---

◎You may only place one of this card in your slots; cannot receive the effects of 'Dark Tower'.
+50
Effects:
◎Ignore the evolution requirements and evolve your Level III Digimon into a Level IV Digimon.

---

◎If the Level IV Digimon that evolved with the use of this card has the ability "underground", add 80 to your attack power.

---

◎At the end of the turn during which this card was used, send it to the Dark Area.
ディーアーク
St-432
発動タイミング: 進化フェイズ

---

◎このカードは1枚しかスロットに置けず、「ダークタワー」の効果を受けない
+50
[効果]:
◎自分の「レベルIII」デジモンを、進化条件を無視して「レベルIV」デジモンに進化させる

---

◎このカードで進化した「レベルIV」デジモンが能力「あなのなか」をもつ場合、攻撃力が+80される

---

◎カードは使用したターン終了時ダークエリアに送られる