St-423
From Wikimon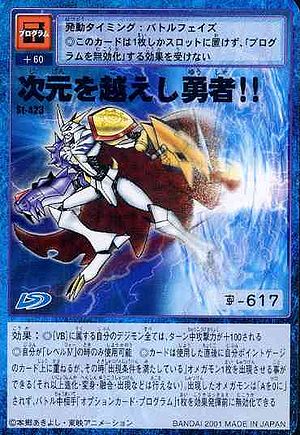 The Dimension Crossing Hero!!
St-423
Activation Timing: Battle Phase

---

◎You may only place one of this card in your slots; cannot receive the effect of 'Programs being invalidated'.
+60
Effects:
◎For the turn, add 100 to the attack power of all of your Digimon belonging to Virus Busters.

---

◎This card can only be used when your Digimon is Level IV.

---

◎This card is stacked on top of your Point Gauge immediately after use; however, at that moment, you may make one Omegamon card that you have fulfilled the Appearance Requirements of appear (you cannot go through with any other evolution/transformation/fusion/appearance after that). The appeared Omegamon's A cannot become zero, and during battle you may invalidate one of the opponent's Program Option cards before they take effect.
次元を超えし勇者!!
St-423
発動タイミング: バトルフェイズ

---

◎このカードは1枚しかスロットに置けず、「プログラムを無効化」する効果を受けない
+60
[効果]:
◎[VB]に属する自分のデジモン全ては、ターン中攻撃力が+100される

---

◎自分が「レベルIV」の時のみ使用可能

---

◎カードは使用した直後に自分のポイントゲージのカード上に重ねるが、その時「出現条件を満たしている」オメガモン1枚を出現させる事ができる(それ以上進化・変身・融合・出現などは行えない)。出現したオメガモンは「Aを0に」されず、バトル中相手「オプションカード・プログラム」1枚を効果発揮前に無効化できる