St-110
From Wikimon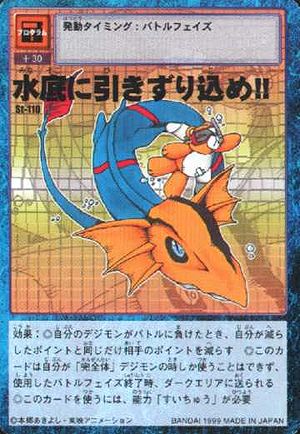 I'll Pull You Down to the Bottom of the Ocean!!
St-110
Activation Timing: Battle Phase
+30
Effects:
◎When your Digimon loses the battle, the opponent loses the same amount of points as you do.

---

◎This card can only be used when your Digimon is Perfect level; At the end of the battle phase during which this card was used, send it to the Dark Area.

---

◎In order to use this card, the ability "underwater" is needed.
水底に引きずり込め!!
St-110
発動タイミング: バトルフェイズ
+30
[効果]:
◎自分のデジモンがバトルに負けたとき、自分が減らしたポイントと同じだけ相手のポイントを減らす

---

◎このカードは自分が「完全体」デジモンの場合しか使うことはできず、使用したバトルフェイズ終了時、ダークエリアに送られる

---

◎このカードを使うには、能力「すいちゅう」が必要