CD-15
From Wikimon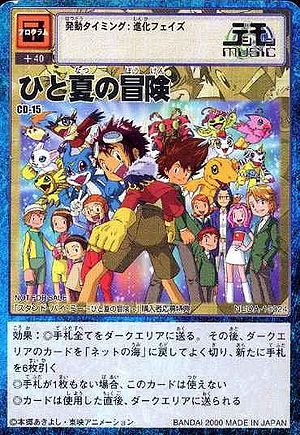 One Summer's Adventure
CD-15
Activation Timing: Evolution Phase
+40
Effects:
◎Send your whole hand to the Dark Area. After that, shuffle all the cards in your Dark Area back into your Net Ocean, and draw a new hand of 6 cards.

---

◎This card cannot be used if your hand contains no cards.

---

◎Send this card to the Dark Area immediately after use.
ひと夏の冒険
CD-15
発動タイミング: 進化フェイズ
+40
[効果]:
◎手札全てをダークエリアに送る。その後、ダークエリアのカードを「ネットの海」に戻してよく切り、新たに手札を6枚引く

---

◎手札が1枚もない場合、このカードは使えない

---

◎カードは使用した直後、ダークエリアに送られる