CD-12
From Wikimon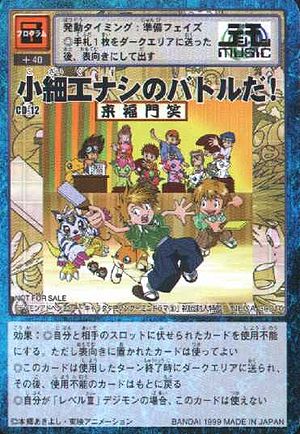 A Battle Without Cheating!
CD-12
Activation Timing: Preparation Phase

---

◎After sending one card from your hand to the Dark Area, send this card out face-up.
+40
Effects:
◎Both you and your opponent become unable to use any face-down cards in their slots. However, both parties can still use cards that were placed face-up.

---

◎At the end of the turn during which this card was used, it is sent to the Dark Area, after which the cards that were unable to be used return to normal.

---

◎This card cannot be used when your Digimon is Level III.
小工細ナシのバトルだ!
CD-12
発動タイミング: 準備フェイズ

---

◎手札1枚をダークエリアに送った後、表向きにして出す
+40
[効果]:
◎自分と相手のスロットに伏せられたカードを使用不能にする。ただし表向きに置かれたカードは使ってよい

---

◎このカードは使用したターン終了時にダークエリアに送られ、その後、使用不能のカードもとに戻る

---

◎自分が「レベルIII」デジモンの場合、このカードは使えない