Bx-76
From Wikimon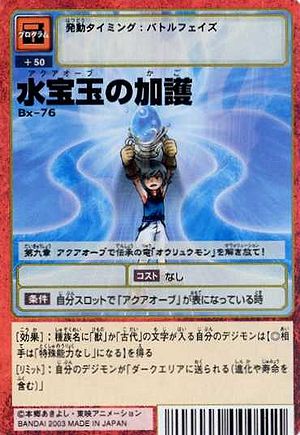 Divine Protection of the Aqua Orb
Bx-76
Activation Timing: Battle Phase
+50
Chapter Nine: Using the Aqua Orb, the legendary dragon Ouryumon was released through X-Evolution!
Cost:
None
Requirements:
When an Aqua Orb card turns face-up in your slot
Effects:
Your Digimon with the words 'beast/animal' or 'ancient' in its type gains the ability 'the opponent loses its special abilities'.
Limit:
When your Digimon gets sent to the Dark Area (including when it evolves or reaches the end of its lifespan).
水宝玉の加護
Bx-76
発動タイミング: バトルフェイズ
+50
第九章 アクアオーブで伝承の竜「オウリュウモン」を解き放て!

コスト
なし
条件
自分スロットで「アクアオーブ」が表になっている時
[効果]:
種族名に「獣」か「古代」の文字が入る自分のデジモンは【◎相手は「特殊能力なし」になる】を得る
[リミット]:
自分のデジモンが「ダークエリアに送られる(進化や寿命を含む)」