Bo-99
From Wikimon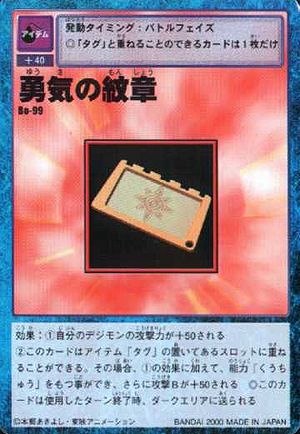 Crest of Courage
Bo-99
Activation Timing: Battle Phase

---

◎You may only stack up to one card on top of your 'Tag' card.
+40
Effects:
①Add 50 to your Digimon's attack power.

---

②You can stack this card on top of a 'Tag' Item card placed in your slot. If you do, in addition to the first effect, you gain the ability "Sky", and you can further add 50 to your B attack power.

---

◎At the end of the turn during which this card was used, send it to the Dark Area.
勇気の紋章
Bo-99
発動タイミング: バトルフェイズ

---

◎「タグ」と重ねることができるカードは1枚だけ
+40
[効果]:
①自分のデジモンの攻撃力が+50させる

---

②このカードはアイテム「タグ」の置いてあるスロットに重ねることができる。その場合、①の効果に加えて、能力「くうちゅう」をもつ事ができ、さらに攻撃Bが+50させる

---

◎このカードは、使用したターン終了時、ダークエリアに送られる