Bo-920
From Wikimon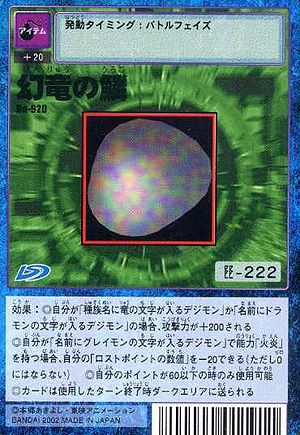 Mythical Dragon's Scale
Bo-920
Activation Timing: Battle Phase
+20
Effects:
◎When your Digimon has the word 'dragon (Ankylosaur/Ceratopsian/Dinosaur/Plesiosaur/Pterosaur/Stegosaur included)' in its type, or has 'dramon' in its name, add 200 to its attack power.

---

◎When your Digimon has 'Greymon' in its name and has the ability "flame", you may reduce your lost points by 20 (it cannot become zero however).

---

◎This card can only be used when your points are 60 and below.

---

◎At the end of the turn during which this card was used, send it to the Dark Area.
幻竜の鱗
Bo-920
発動タイミング: バトルフェイズ
+20
[効果]:
◎自分が「種族名に竜の文字が入るデジモン」か「名前にドラモンの文字が入るデジモン」の場合、攻撃力が+200される

---

◎自分が「名前にグレイモンの文字が入るデジモン」で能力「火炎」を持つ場合、自分の「ロストポイントの数値」を-20できる(ただし0にはならない)

---

◎自分のポイントが60以下の時のみ使用可能

---

◎カードは使用したターン終了時ダークエリアに送られる