Bo-8j
From Wikimon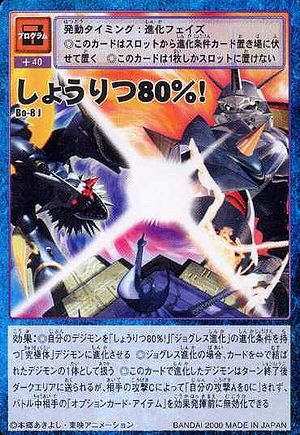 Winning Percentage: 80%!
Bo-8j
Activation Timing: Evolution Phase

---

◎Send this card face-down from its slot to the evolution requirements box.

---

◎You may only place one of this card in your slots.
+40
Effects:
◎Evolve your Digimon into an Ultimate level Digimon with Winning Percentage: 80! or Jogress Evolution in its evolution requirements.

---

◎In the case of Jogress Evolution, treat this card as one of the component Digimon.

---

◎The Digimon that evolved through the use of this card will be sent to the Dark Area at the end of the turn, but its A will not go to zero as a result of the opponent's attack C, and you can invalidate the opponent's Item Option cards before they take effect.
しょうりつ80%!
Bo-8j
発動タイミング: 進化フェイズ

---

◎このカードはスロットから進化条件カード置き場に伏せて置く

---

◎このカードは1枚しかスロットに置けない
+40
[効果]:
◎自分のデジモンを「しょうりつ80%!」「ジョグレス進化」の進化条件を持つ「究極体」デジモンに進化させる

---

◎ジョグレス進化の場合、カードを⇔で結ばれたデジモンの1体として扱う

---

◎このカードで進化したデジモンはターン終了後ダークエリアに送られるが、相手の攻撃Cによって「自分の攻撃Aを0に」されず、バトル中相手の「オプションカード・アイテム」を効果発揮前に無効化できる