Bo-797
From Wikimon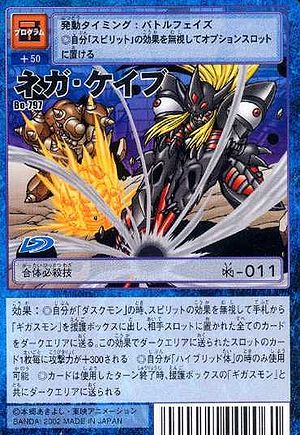 Nega Cave
Bo-797
Activation Timing: Battle Phase

---

◎Ignore the effects of your Spirit and place this card in your Option slot.
+50
Category:
Fusion Technique
Effects:
◎When your Digimon is Duskmon, ignore the effects of your Spirit and send one Gigasmon card from your hand to your support box, and send all of the cards in your opponent's slots to the Dark Area. For every card in the opponent's slots sent to the Dark Area this way, add 300 to your attack power.

---

◎This card can only be used when your Digimon is Hybrid level.

---

◎At the end of the turn during which this card was used, send this card together with the Gigasmon card in your support box to the Dark Area.
ネガ・ケイブ
Bo-797
発動タイミング: バトルフェイズ

---

◎自分「スピリット」の効果を無視してオプションスロットに置ける
+50
カテゴリー
合体必殺技
[効果]:
◎自分が「ダスクモン」の時、スピリットの効果を無視して手札から「ギガスモン」を援護ボックスに出し、相手スロットに置かれた全てのカードをダークエリアに送る。この効果でダークエリアに送られたスロットのカード1枚毎に攻撃力が+300される

---

◎自分が「ハイブリッド体」の時のみ使用可能

---

◎カードは使用したターン終了時、援護ボックスの「ギガスモン」と共にダークエリアに送られる