Bo-5L
From Wikimon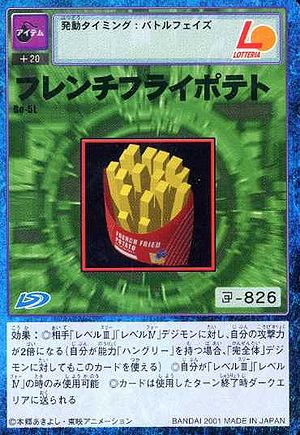 French Fried Potato
Bo-5L
Activation Timing: Battle Phase
+20
Effects:
◎When facing a Level III or Level IV Digimon, double your Digimon's attack power (if your Digimon has the ability "hungry", this card can be used even against Perfect levels).

---

◎This card can only be used when your Digimon is Level III or Level IV.

---

◎At the end of the turn during which this card was used, send it to the Dark Area.
フレンチフライポテト
Bo-5L
発動タイミング: バトルフェイズ
+20
[効果]:
◎相手「レベルIII」「レベルIV」デジモンに対し、自分の攻撃力が2倍になる(自分が能力「ハングリー」を持つ場合、「完全体」デジモンに対してもこのカードを使える)

---

◎自分が「レベルIII」「レベルIV」の時のみ使用可能

---

◎カードは使用したターン終了時ダークエリアに送られる