Bo-589
From Wikimon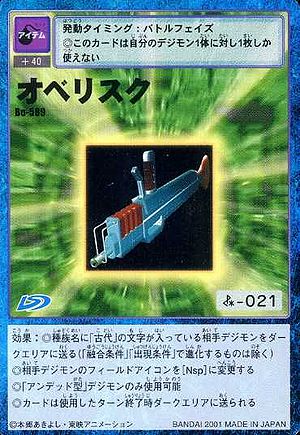 Obelisk
Bo-589
Activation Timing: Battle Phase

---

◎You may only use one of this card on each of your Digimon.
+40
Effects:
◎Send one of the opponent's Digimon with 'Ancient' in its type to the Dark Area (excluding Digimon that evolve through fusion/appearance requirements).

---

◎Change the opponent's field icon to Nature Spirits.

---

◎This card can only be used when your Digimon is Undead type.

---

◎At the end of the turn during which this card was used, send it to the Dark Area.
オベリスク
Bo-589
発動タイミング: バトルフェイズ

---

◎このカードは自分のデジモン1体に対し1枚しか使えない
+40
[効果]:
◎種族名に「古代」の文字が入っている相手デジモンをダークエリアに送る(「融合条件」「出現条件」で進化するものは除く)

---

◎相手デジモンのフィールドアイコンを[NSp]に変更する

---

◎「アンデッド型」デジモンのみ使用可能

---

◎カードは使用したターン終了時ダークエリアに送られる