Bo-350
From Wikimon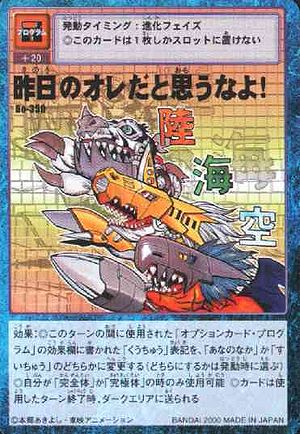 Don't Think I'm the Same as Yesterday!
Bo-350
Activation Timing: Evolution Phase

---

◎You may only place one of this card in your slots.
+20
Effects:
◎For any Program Option card you use during this turn, you may change any mention of 'sky' in its effects field to either 'underground' or 'underwater' (choose which one to change to when the card is being activated).

---

◎This card can only be used when your Digimon is Perfect or Ultimate level.

---

◎At the end of the turn during which this card was used, send it to the Dark Area.
昨日のオレだと思うなよ!
Bo-350
発動タイミング: 進化フェイズ

---

◎このカードは1枚しかスロットに置けない
+20
[効果]:
◎このターンの間に使用された「オプションカード・プログラム」の効果欄に書かれた「くうちゅう」表記を、「あなのなか」か「すいちゅう」のどちらかに変更する(どちらにするかは発動時に選ぶ)

---

◎自分が「完全体」か「究極体」の時のみ使用可能

---

◎カードは使用したターン終了時、ダークエリアに送られる