Bo-346
From Wikimon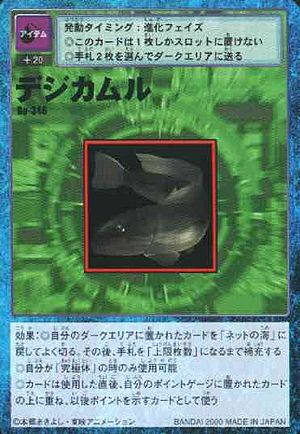 Digi Seabass
Bo-346
Activation Timing: Evolution Phase

---

◎You may only place one of this card in your slots.

---

◎Choose two cards from your hand and send them to the Dark Area.
+20
Effects:
◎Return all the cards in your Dark Area to your Net Ocean and shuffle it. After that, draw cards until you reach your hand's upper limit.

---

◎This card can only be used when your Digimon is Ultimate level.

---

◎After this card is used, stack it on top of the card placed on your point gauge, and use it to mark out your points from that point on.
デジカムル
Bo-346
発動タイミング: 進化フェイズ

---

◎このカードは1枚しかスロットに置けない

---

◎手札2枚を選んでダークエリアに送る
+20
[効果]:
◎自分のダークエリアに置かれたカードを「ネットの海」に戻してよく切る。その後、手札を「上限枚数」になるまで補充する

---

◎自分が「究極体」の時のみ使用可能

---

◎カードは使用した直後、自分のポイントゲージに置かれたカードの上に重ね、以後ポイントを示すカードとして使う