Bo-305
From Wikimon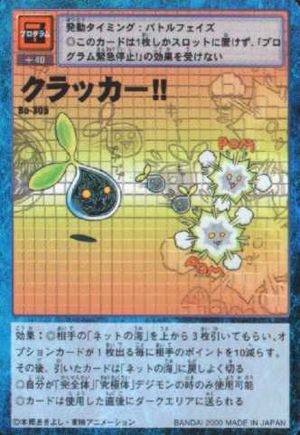 Cracker!!
Bo-305
Activation Timing: Battle Phase

---

◎You may only place one of this card in your slots; cannot receive the effects of 'Emergency Program Halt!'.
+40
Effects:
◎Your opponent draws 3 cards from the top of their Net Ocean. For every Option card that they draw, immediately reduce their points by 10. After that, return the drawn cards to the Net Ocean and shuffle them.

---

◎This card can only be used when your Digimon is Perfect or Ultimate level.

---

◎Send this card to the Dark Area immediately after use.
クラッカー!!
Bo-305
発動タイミング: バトルフェイズ

---

◎このカードは1枚しかスロットに置けず、「プログラム緊急停止!」の効果を受けない
+40
[効果]:
◎相手の「ネットの海」を上から3枚引いてもらい、オプションカードが1枚出る毎に相手のポイントを10減らす。その後、引いたカードは「ネットの海」に戻してよく切る

---

◎自分が「完全体」「究極体」デジモンの時のみ使用可能

---

◎カードは使用した直後にダークエリアに送られる