Bo-251
From Wikimon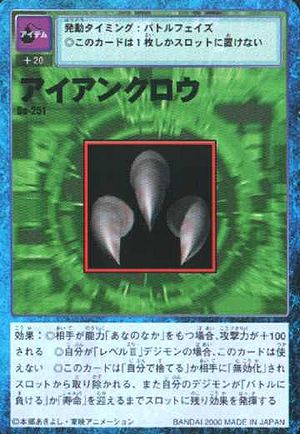 Iron Claw
Bo-251
Activation Timing: Battle Phase

---

◎You may only place one of this card in your slots.
+20
Effects:
◎When the opponent has the ability "underground", add 100 to your attack power.

---

◎This card cannot be used when your Digimon is Level III.

---

◎This card remains in its slot and continues its effects until it is discarded by you or invalidated, or when your Digimon loses a battle or reaches the end of its lifespan.
アイアンクロウ
Bo-251
発動タイミング: バトルフェイズ

---

◎このカードは1枚しかスロットに置けない
+20
[効果]:
◎相手が能力「あなのなか」をもつ場合、攻撃力が+100される

---

◎自分が「レベルIII」デジモンの場合、このカードは使えない

---

◎このカードは「自分で捨てる」か相手に「無効化」されスロットから取り除かれる。または自分のデジモンが「バトルに負ける」か「寿命」を迎えるまでスロットに残り効果を発揮する