Be-1
From Wikimon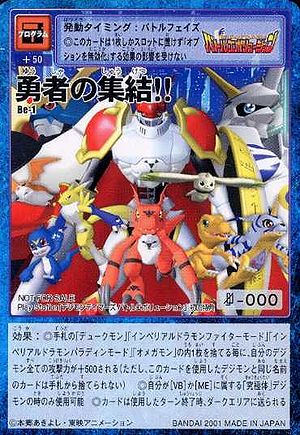 The Gathering of Heroes!!
Be-1
Activation Timing: Battle Phase

---

◎You may only place one of this card in your slots; cannot receive the effects of 'invalidating Option cards'.
+50
Effects:
◎For every Dukemon, Imperialdramon Fighter Mode, Imperialdramon Paladin Mode, or Omegamon card that you discard from your hand, add 500 to the attack power of all of your Digimon (However, you cannot discard a card with the same name as the Digimon that used this card from your hand).

---

◎This card can only be used when your Digimon is Ultimate level and belongs to Virus Busters or Metal Empire.

---

◎At the end of the turn during which this card was used, send it to the Dark Area.
勇者の集結!!
Be-1
発動タイミング: バトルフェイズ

---

◎このカードは1枚しかスロットに置けず「オプションカードを無効化」する効果を受けない
+50
[効果]:
◎手札の「デュークモン」「インペリアルドラモンファイターモード」「インペリアルドラモンパラディンモード」「オメガモン」の内1枚を捨てる毎に、自分のデジモン全ての攻撃力が+500される(ただし、このカードを使用したデジモンと同じ名前のカードは手札から捨てられない)

---

◎自分が[VB]か[ME]に属する「究極体」デジモンの時のみ使用可能

---

◎カードは使用したターン終了時、ダークエリアに送られる